Cast Aluminium Painted Gutters
Cast aluminium gutters are extremely durable and long lasting and are a great choice for coping with wet weather or snow.
Furthermore, cast aluminium rainwater systems can be subjected to powder coating which gives both the control and the freedom to produce a range of colour finishes to a level not typically available in the construction industry. The aluminium undergoes a series of pretreatments to provide the ideal prepared surface to receive an electrostatically applied polyester powder in the chosen colour. This is then 'baked' and bonded to the fitting in a carefully controlled oven; the complete process is achieved on a continuous line to obtain the best results.
The performance of polyester powder coated rainwater systems greatly exceeds that of site painted systems. Approvals & Quality Control Polyester powder coating is in accordance with BS EN 12206-1:2004. This refers to the coating of aluminium and aluminium alloys for architectural purposes. In the case of rainwater systems it is accepted that such coating is both decorative and protective. Along with independent auditing to the ISO 9001:2008 Quality Management Standard, the cast aluminium painted gutters maintain BBA certification.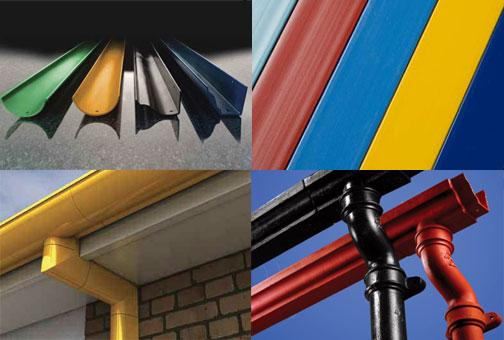 The standard aluminium Raincote range comprises 26 colours (see below) with additional colours with a BS or RAL number available to special order, subject to quantity and cost.
Nationwide Gutters have partnered with a major powder paint supplier to the powder coating industry in Ireland and are able to supply cast aluminium painted gutters in literally hundreds of colours! Click on the below image to see a full size colour chart. Please note that this chart is for reference only and does not represent the actual colour. Please consult the official Ral colour chart for true colour matching. Contact us for more information, to discuss your specific colour or request an exact pantone colour match.