Cast Iron Painted Gutters
The properties of cast iron have long been recognised as the ideal material for rainwater systems of listed buildings and wherever conservation is an issue. Cast Iron exudes character, closely replicates historic styles and maintains the intentions of the original architect, the aesthetic integrity of the building. The physical properties of cast iron will be sustained for many years due to its strength and durability. Our cast iron rainwater systems range comes in a wide range of colours
Cast iron products are factory primed with one coat of protective red oxide primer. This primer gives protection against corrosion during transportation and short-term undercover storage, and will provide a suitable surface for final painting. On-site handling and painting are the responsibility of the contractor.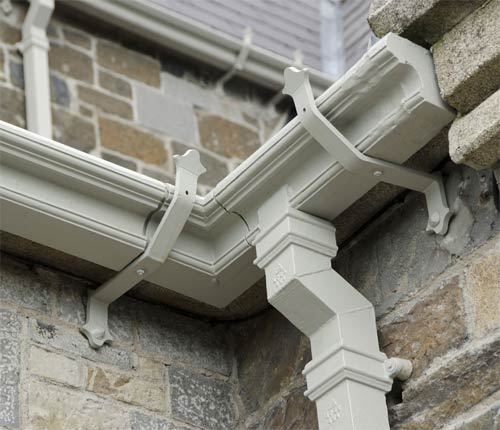 Cast iron products are generally available in a high performance satin pre-finish black. The finish is a three coat system which is factory applied under controlled conditions and has been specifically developed for cast iron to provide a smooth and long lasting finish. The range is also available in a range of 8 standard colour options in a high quality two-pack epoxy primer and top coat finish. By removing the need for on-site pre-installation painting painted cast iron offers up to 60% saving on time and 30% saving on cost.
Nationwide Gutters specialise in the provision of materials only for a wide range of cast iron gutters. Contact us with your specific colour requirements as we are able to provide a large colour range.